53 Fantastic Box of Sunshine Ideas for Spreading Happiness
College Life Made Easy is reader-supported. When you buy through links on our site, we may earn an affiliate commission. Learn more.
27) Pineapple Happy Birthday
This box is truly an impressive birthday surprise!
28) Teacher Appreciation Gift
I love the idea of making a box of sunshine for a teacher appreciation gift. Beats an apple any day!
29) Yellow Snack Attack
When in doubt – just fill the package with snacks. Trust me, no one will complain.
30) All the Yellow Things
The handmade card with this gift is extra adorable.
31) A Sunshine Filled Birthday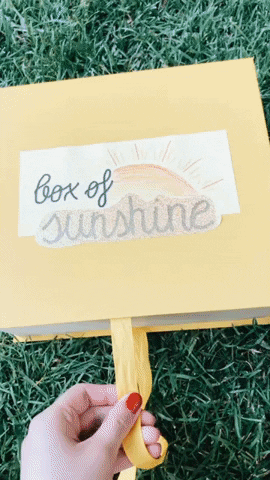 Via @eceocalmaz on VSCO
Sunny, beautiful sunshine in a box like this is a wonderful way to wish someone a very happy birthday.
32) Happy Sunflowers
I'm sure whoever got this on their birthday was floored!
33) Box of FUNshine
If puns are your strong suit, well then it's your time to SHINE.
34) Graduation Basket Idea
Teens and college students are especially keen on the idea of sunshine boxes. They're definitely a winning choice for graduation gifts.
35) Vivid, Yellow & Fun
Can you sense a theme with the lemons, yet?
36) Happy Thoughts & Good Vibes
Snacks and face masks go together like peanut butter & jelly.
37) Best Friend Hugs
As you're putting together the care package, think of it as a way to send a hug by mail.
38) Boom Chicka Yes
This box uses just a handful of items but it appeals to all the senses.
39) Sunshine Box for a Birthday
I think we all secretly hope to get surprise mail like this one day.