18 College Care Packages for Guys That Will Instantly Light Up His Day
College Life Made Easy is reader-supported. When you buy through links on our site, we may earn an affiliate commission. Learn more.
Knock-His-Socks-Off College Care Package Ideas for Guys
What do you put in a care package for a college guy? 
My advice – don't overthink it.
Sending a care package is thoughtful and fun. Especially so when the recipient is a college student.
It's amazing what a little surprise mail can do!
What might not seem like much to you can mean the world to a guy at college.
Whether it's for his birthday or just because:
It's always a good feeling to know that someone thinks of you.
So:
Here are 18 terrific college care packages for guys.
College Care Packages Guys Will Love
---
1. Gamer 'RED-y Player One' Snack Box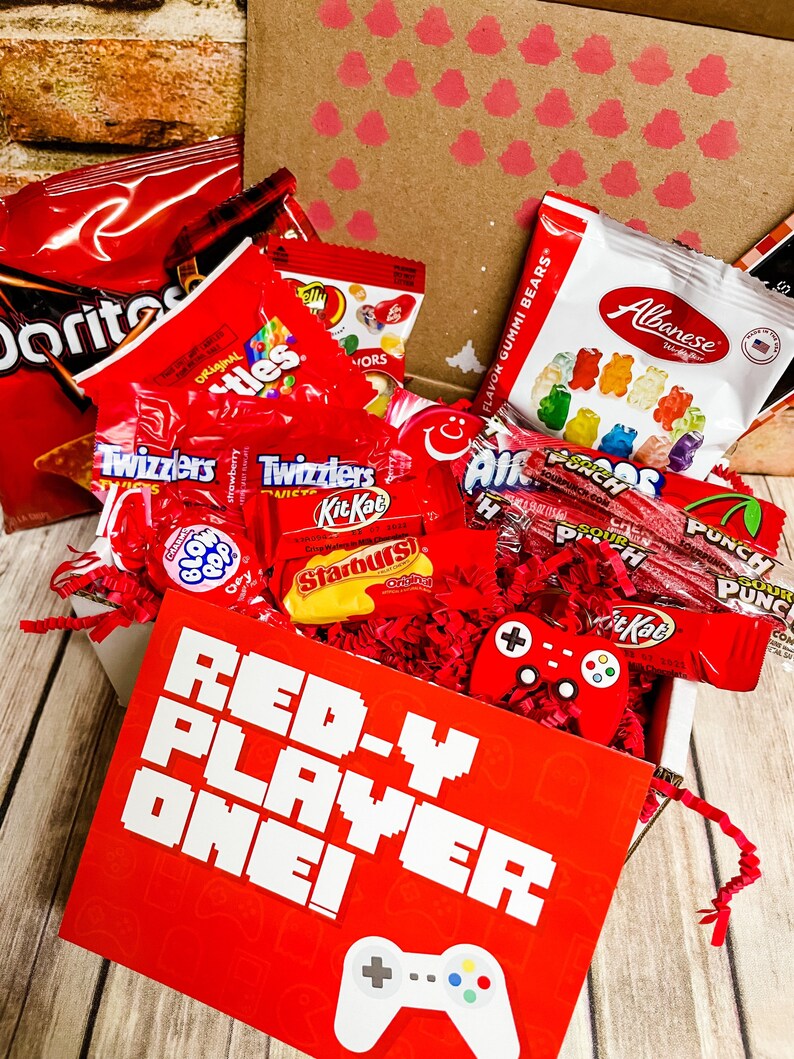 Shop on Etsy
If your college guy is a gamer, he's sure to be delighted by this fun idea.
This care package idea comes complete with yummy snacks and a cool controller keychain. The message on the card is a play on words which pays homage to the movie Ready Player One (definitely recommend watching it if you haven't seen it).
All in all, a red themed surprise gift like this is a unique way to brighten his day.
2. Football Gift Basket
Buy Now from BroBasket
Beer, tailgating, and college guys just go together.
So why not send him everything he needs to bond over a good football game with friends?
This care package has it all. And the best part is the unique football flask.
3. High Protein Snack Pack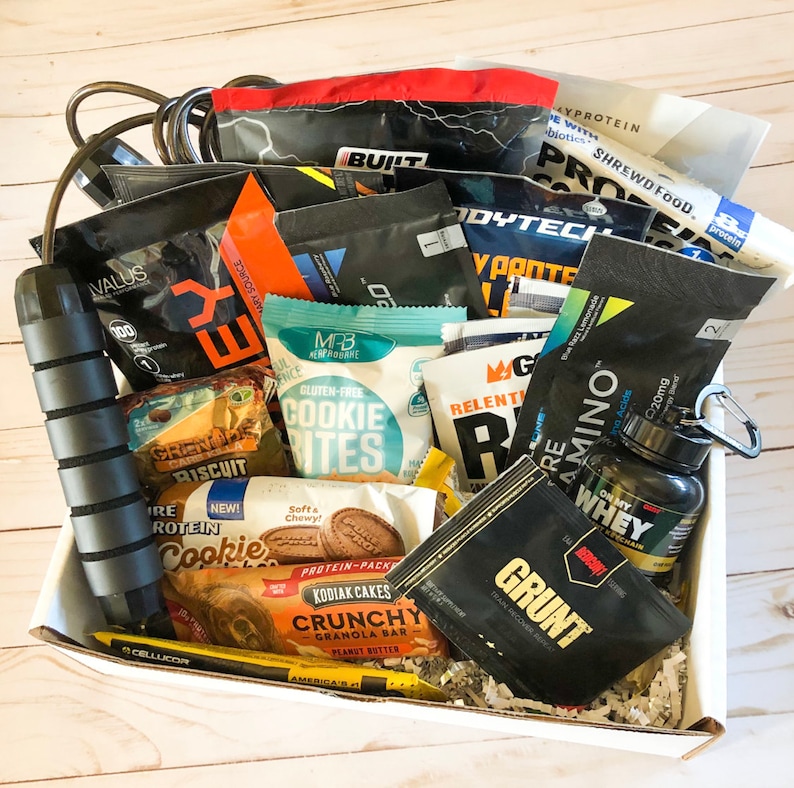 Shop on Etsy
If the guy you have in mind is big into fitness:
He'll absolutely appreciate some high protein snacks!
This box has a nice variety which will give him the opportunity to try something new. He could even find a new favorite high protein snack.
4. Marvel Inspired Mystery Box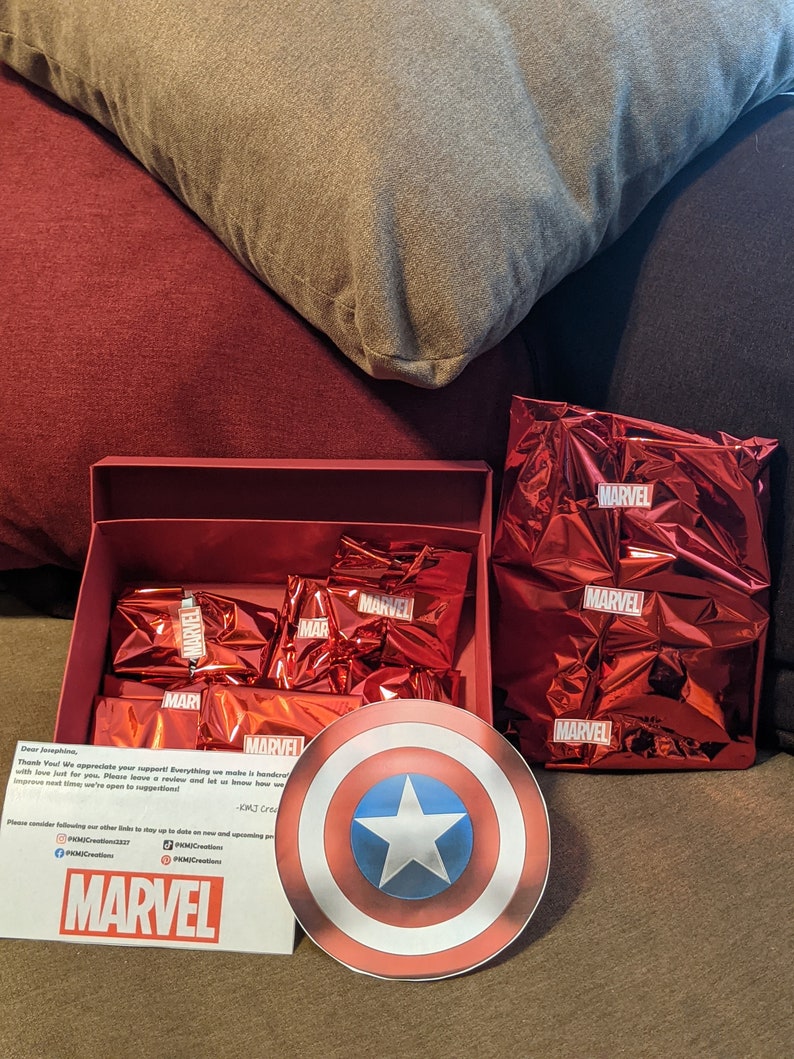 Shop on Etsy
Any superhero fan is sure to love a care package decorated like this. The mystery gifts add to the fun in a big way!
Related Video: How to Make a Box of Sunshine Any College Kid Would Love
5. Something Out of The Blue Care Package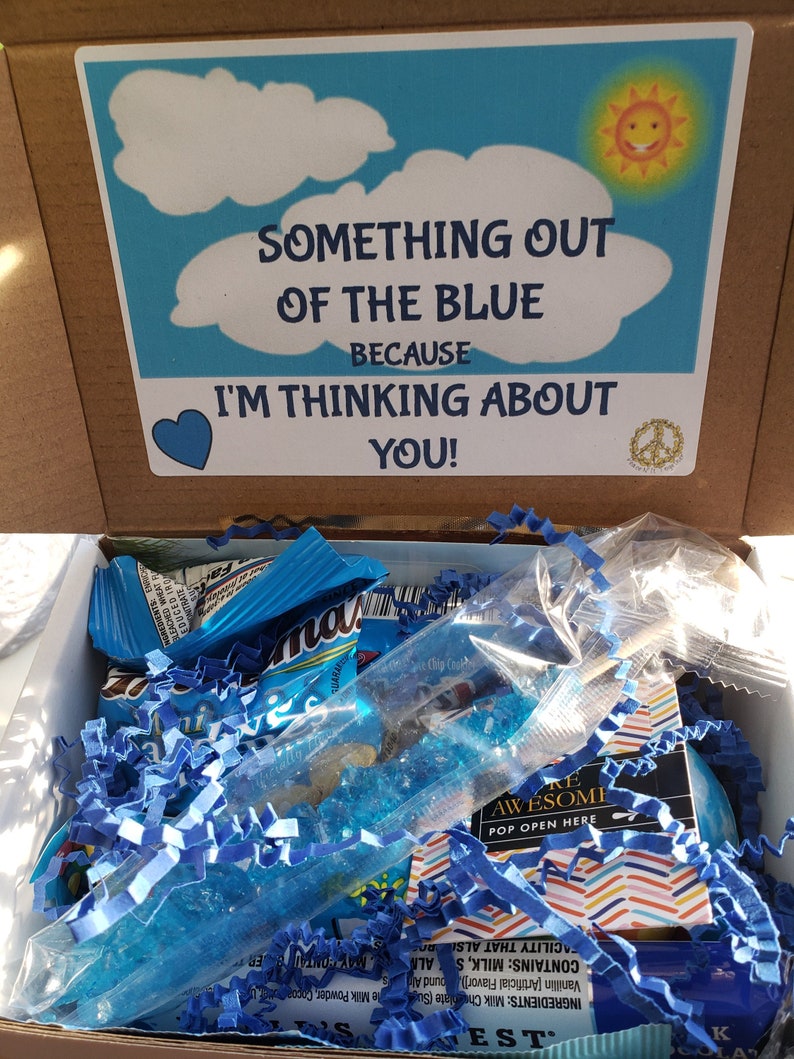 Shop on Etsy
Everyone loves a good pun — especially when it's accompanied by food.
Send your guy in college a thoughtfully put together good box like this where everything is blue!
This gift box idea is the perfect thing to send to any young man to let him know how special he is to you. And when it comes to freshman year blues, it's just what the doctor ordered.
6. Sending You A Bear Hug Care Package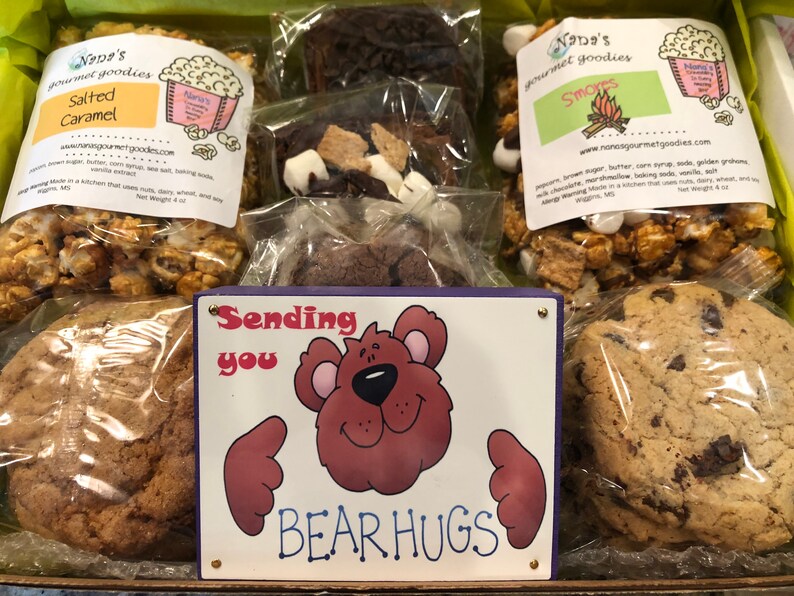 Shop on Etsy
Birthdays and other holidays away from home can be lonely.
However:
Homemade goodies can change his mood! I like how this one includes a big ol' bear hug.
7. Finals Week College Care Package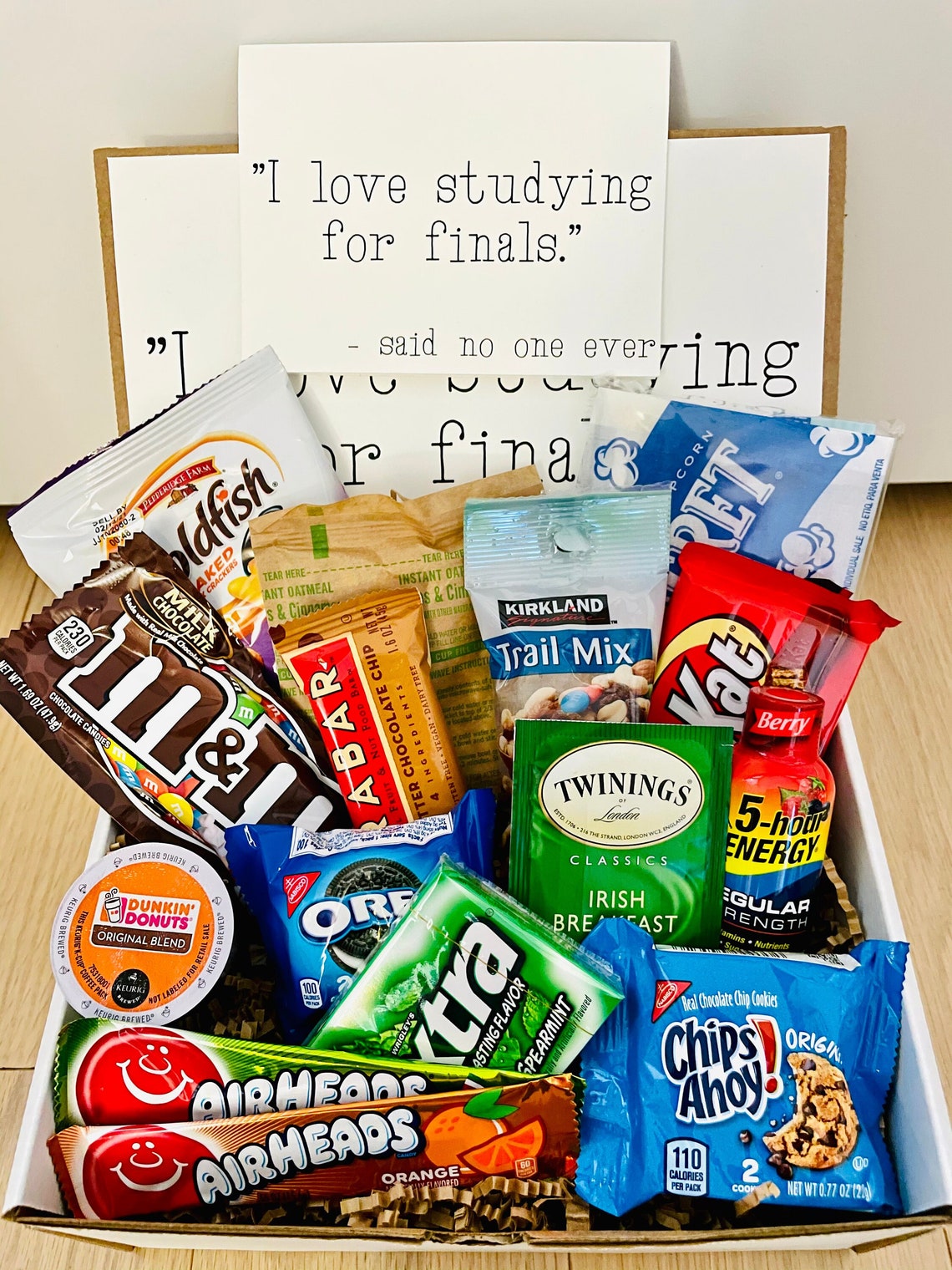 Shop on Etsy
If there was ever a time a college student could use a care package – it's during finals.
Easy to make food and caffeine are a winning combo.
8. Vegan Snack Jackpot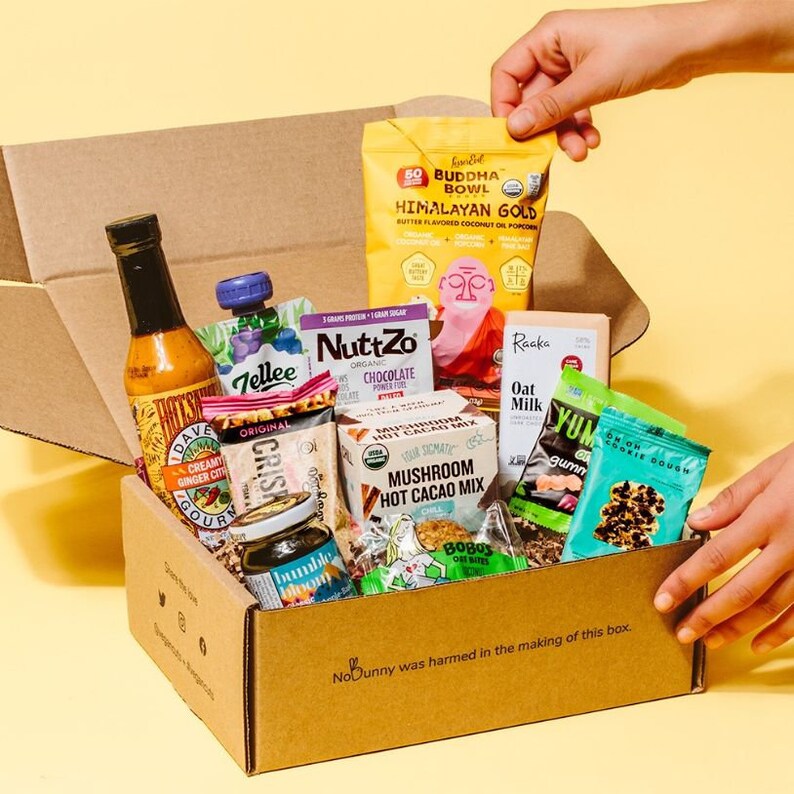 Shop on Etsy
Unless you're well versed on the subject:
It's not always clear which foods are vegan and which are not.
Thankfully:
This snack box makes it easy! It's a go-to choice for guys who are following a vegan diet.
9. Caliente BroBox
Buy Now from BroBasket
Get spicy with college care packages for boys!
Because what treats you send don't have to be sweet. Mix it up by delighting his senses with a selection of mouth-burning treats.
10. Little Box of Sunshine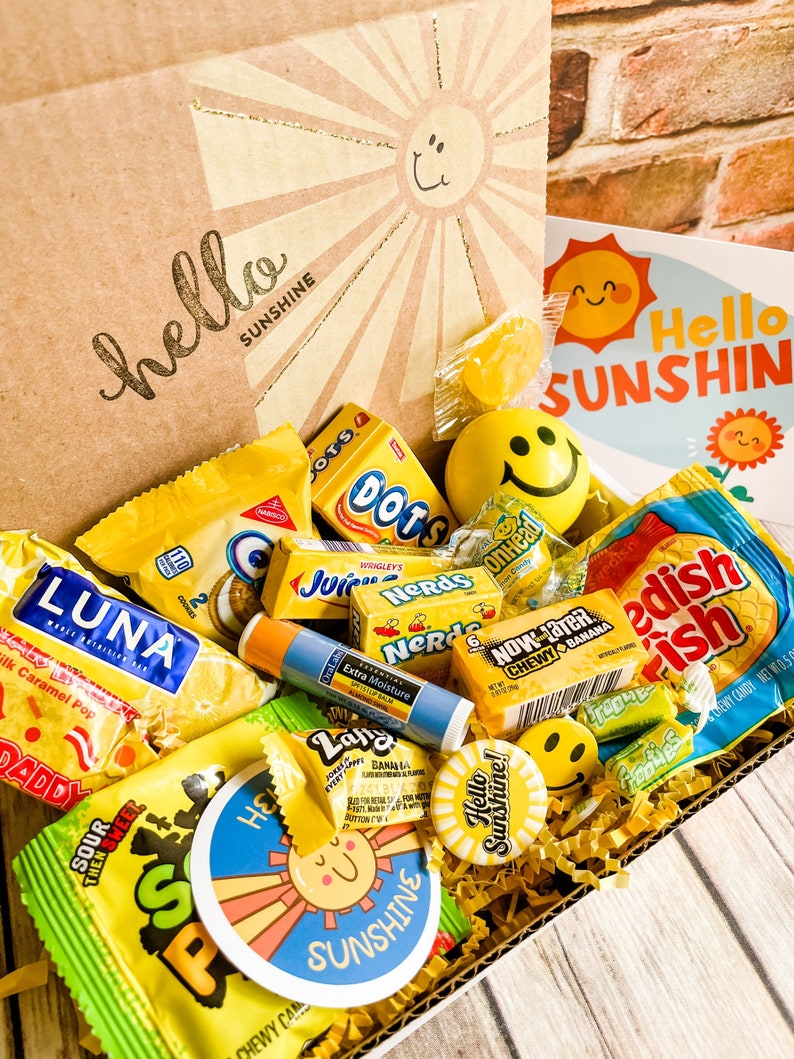 Shop on Etsy
Nothing will lift his spirits and brighten his day more than a gift of sunshine!
Backed by science, yellow is proven to be the color most associated with happiness. So it's easy to see why your college guy will greet a variety of hand-selected yellow goodies with excitement!
11. Just Add Water College Care Package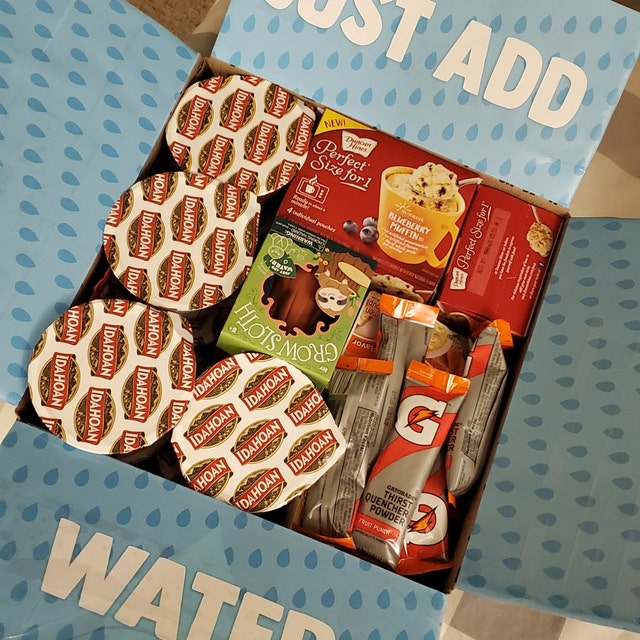 Shop on Etsy
I love this college care package idea! It's so creative.
You can include any instant food or drinks. Hence, the just add water bit.
12. I'm Your Biggest Fan Care Package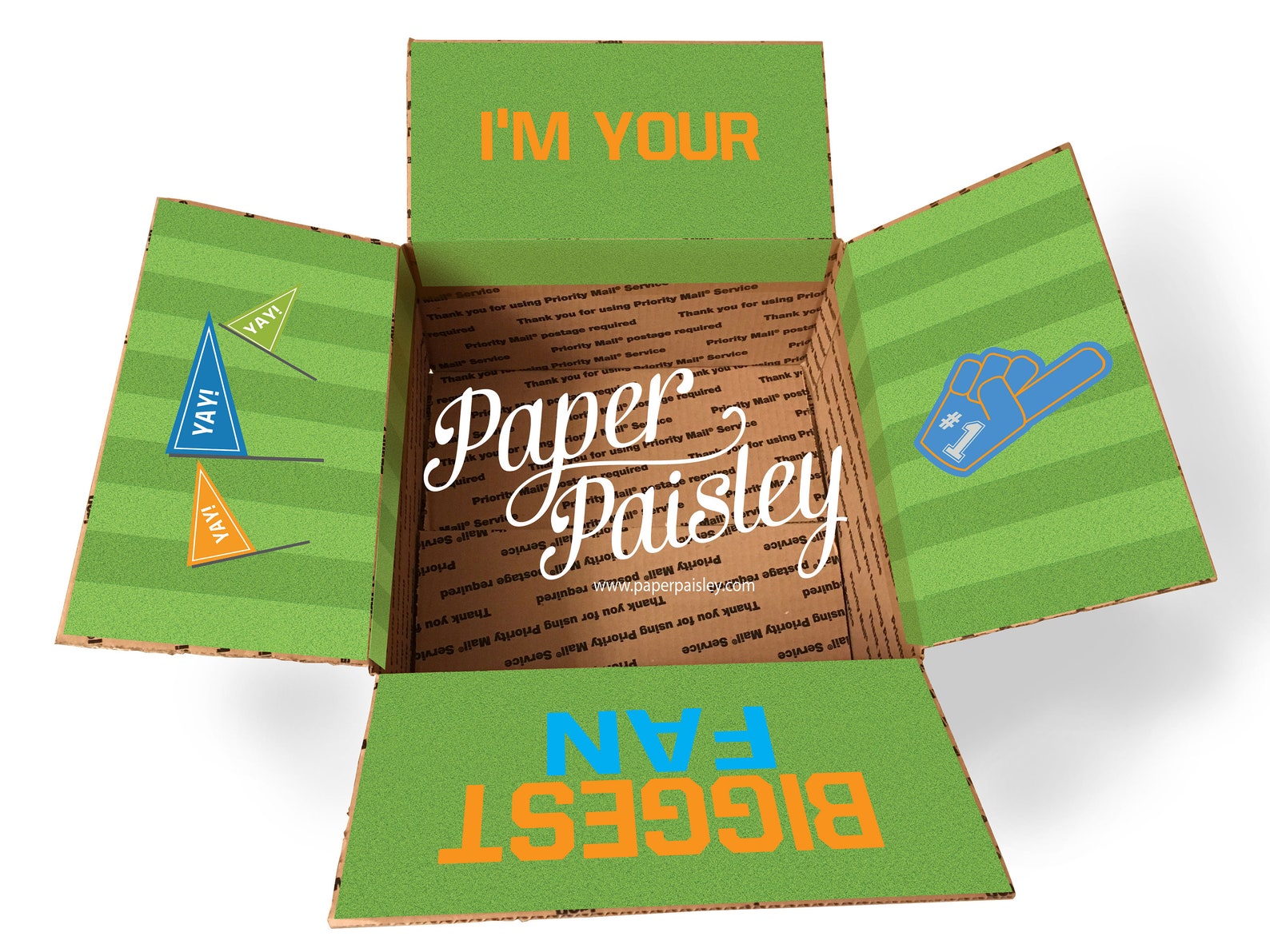 Shop on Etsy
If it involves a pun:
It's a college care package guys will get a kick out of!
13. Healthy Snack Package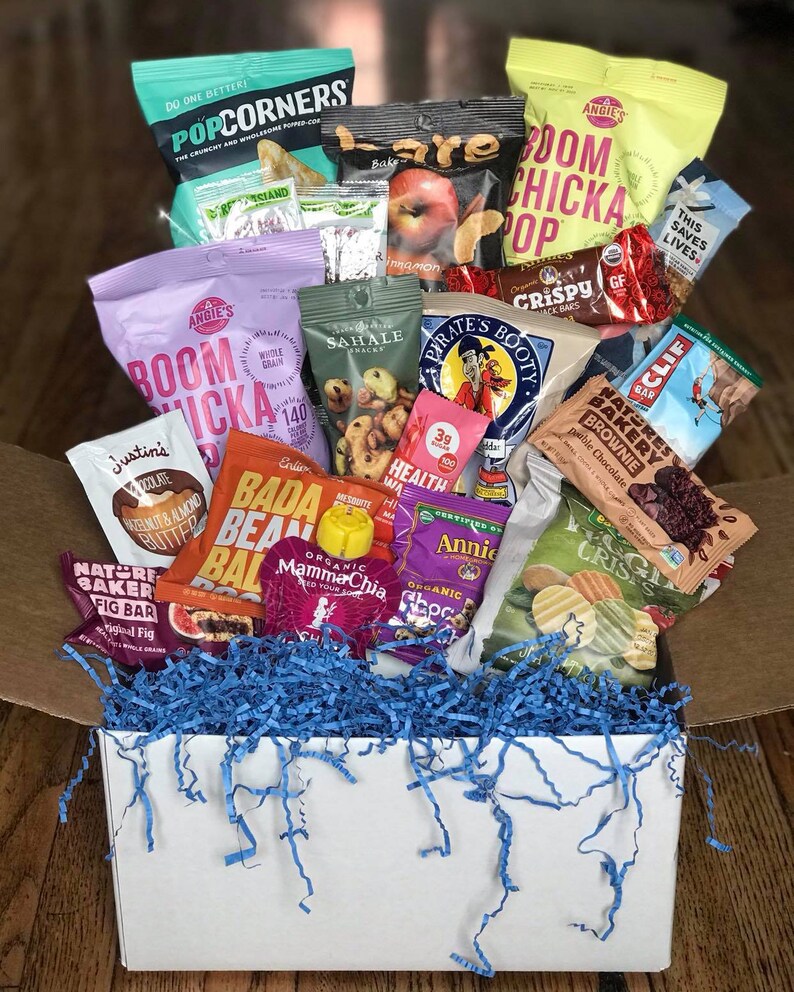 Shop on Etsy
Healthy is a theme both he, and you, can appreciate.
Make his day in the best of ways:
Mail him a bunch of convenient food that'll give him the energy he needs! He'll get to try something new, save money on snacks, and have fuel to tackle all his class assignments.
14. Beer & Beef Jerky Men's Gift Basket
Buy Now from BroBasket
Here's another idea for the over 21 crowd:
Guys love beef jerky. They also love beer. Combine both for a kickass care package.
15. You're One Smart Cookie Care Package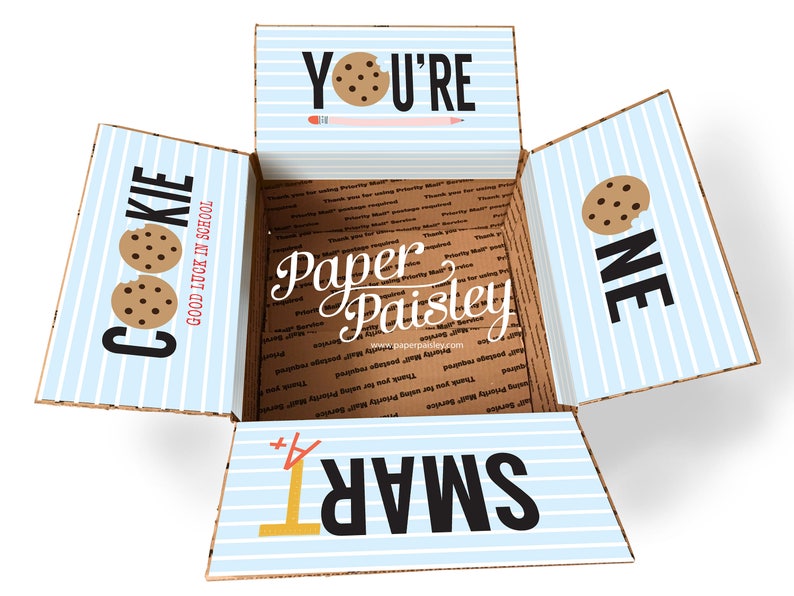 Shop on Etsy
A care package is a nice way to send a college guy some much needed encouragement.
This idea is super sweet. Homemade cookies are a must with these decorations!
16. KETO Snack Crate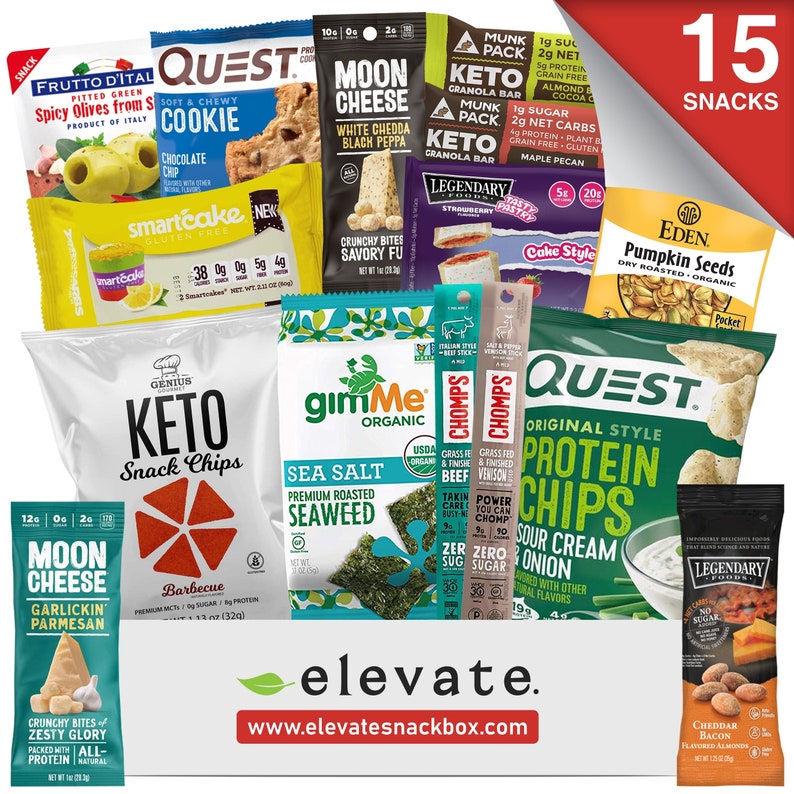 Shop on Etsy
The keto diet has been gaining in popularity over the past decade.
So:
There's a good chance that a guy in college is trying it out. Or he has some curiosity about it, at the very least.
And that's where an arrangement of yummy keto-friendly snacks comes in.
17. Hangover Recovery Kit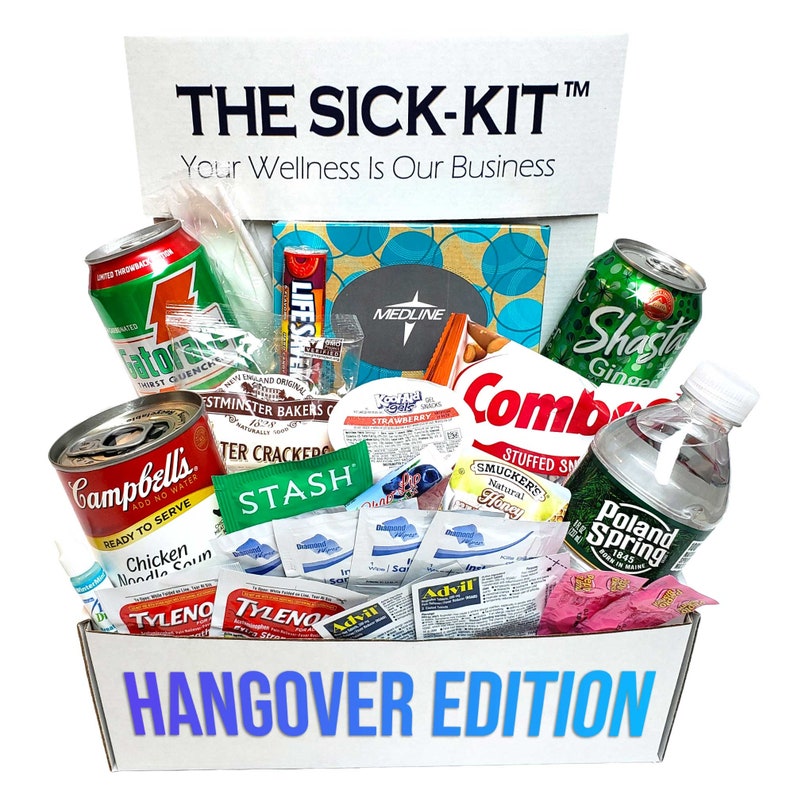 Shop on Etsy
College is a time for testing limits…
and learning from mistakes.
A hangover recovery kit is one of the best college care packages for guys. 'Cause when he needs it, he'll be beyond grateful.
18. Mystery Box for Men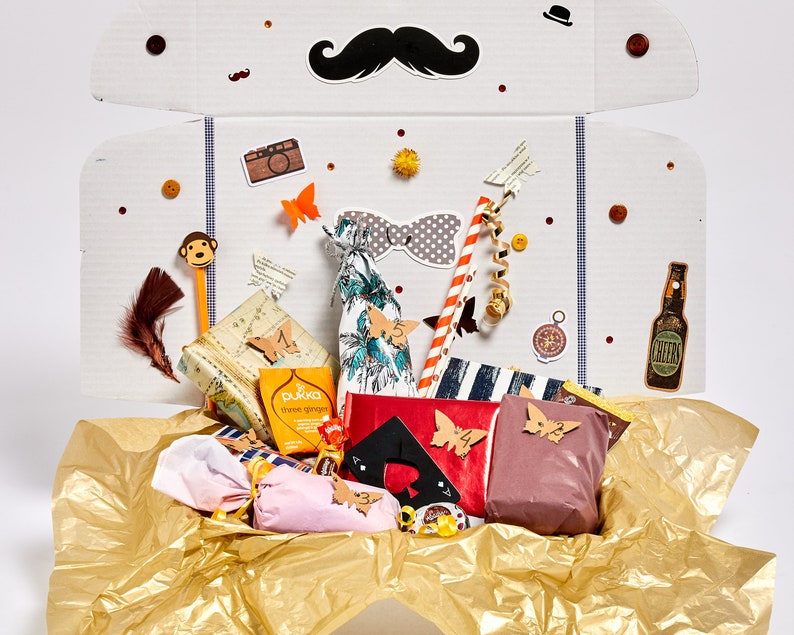 Shop on Etsy
Double the surprise = double the fun.
This is a great care package idea for those hard to shop for types. There are 7 wrapped gifts, one for each day of the week.
---
Wrapping up with college care packages for boys
This concludes the list of college care package ideas for guys. I hope these inspire you to send happy mail to a boy you know!
Which care package do you think is best?
More ideas for guys in college:
---
Pin it for later 📌:
---
The Best College Care Packages for Guys