Fun Gifts for College Guys: 14 Winning Ideas
College Life Made Easy is reader-supported. When you buy through links on our site, we may earn an affiliate commission. Learn more.
Discover fun gifts for college boys that he's sure to love!
Gift shopping can be fun, but it can also be a challenge when you have no idea where to even begin. And college guys can be quite the mystery!
Luckily:
We made a list of the top 13 fun gifts for college guys so now you'll know just what to get.
Fun Gifts for College Guys
---
1. Moose Oven Mitt
View on Amazon
You can't go wrong with a useful mitt that will bring a smile to his face every time he cooks food in the oven.
This is a perfect gift if the college guy you're thinking of is out of the dorms and in his own apartment!
2. Throw Throw the Burrito Game
View on Amazon
Move aside Monopoly, Jenga, and Scrabble–there's a new favorite party game in town!
With ducking, dodging, and throwing, this burrito-themed dodgeball card game is sure to be a hit with any young adult.
3. Dammit Doll
View on Amazon
Boys in college need to let off steam once in a while! And a Dammit Doll is the ultimate stress relief tool.
It absorbs negative energy–so feel free to yell at it, throw it, slam it, or do whatever makes you feel better.
4. Drinking Roulette Game
View on Amazon
A creative, new drinking game is always a win for the over 21 crowd.
This one brings the casino to you with fun guilt-free "gambling." Spin the wheel, drop in the roulette ball, and let the fun begin!
5. The Abide Guide
View on Amazon
This survival guide is a must-have for fans of The Big Lebowski and even those who haven't seen the movie (yet).
Between the covers is useful and humorous advice on how to take it easy. It's an entertaining read from start to finish!
6. Custom Wood Docking Station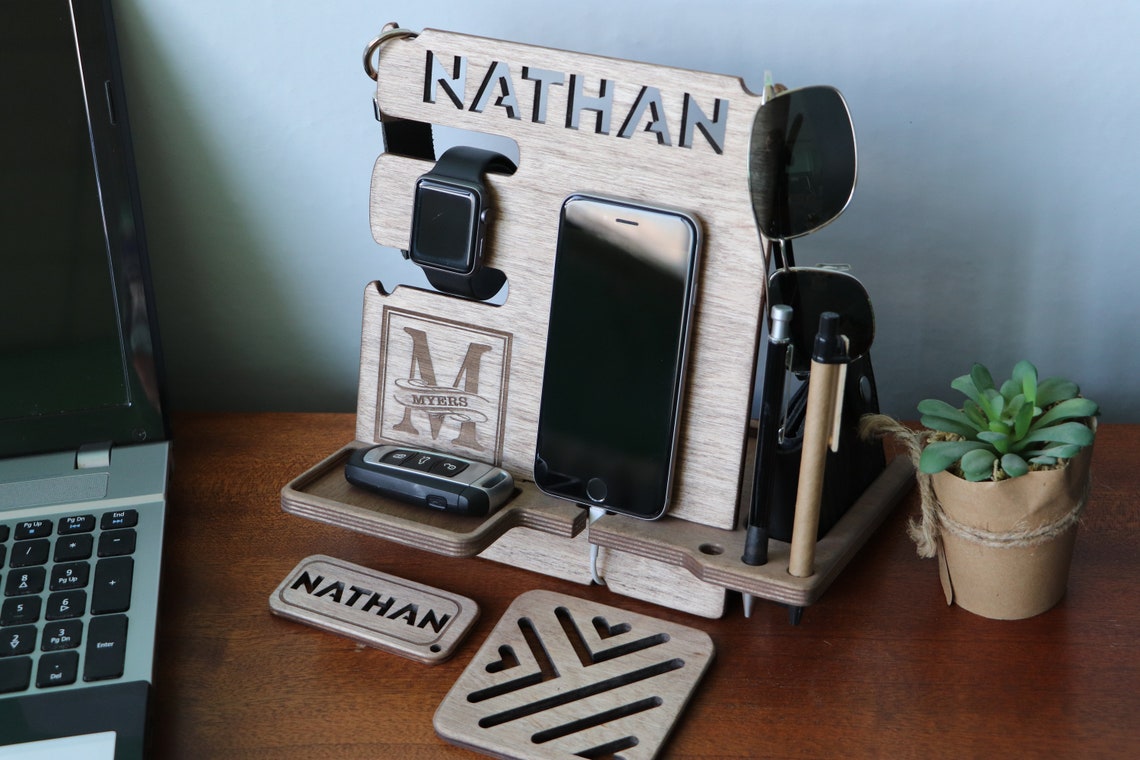 Have you ever forgotten where you set down your phone or car keys?
Turning the house upside trying to find the thing you just had is maddening–and especially so when you're in a rush!
A dedicated spot like this cool docking station is the kind of gift every college guy needs. You can even personalize it with his name or a fun message.
7. AirPods Pro
View on Amazon
College students of all kinds are crazy about AirPods. They love the sound quality and the ultimate convenience of wire-free listening.
Go with this gift idea if you really want to WOW him.
8. Bob Ross Heat Changing Mug
View on Amazon
Even though Bob Ross' public broadcast show aired in the 80's and 90's, he seems to be an icon now more than ever.
College students are all about this cult classic! They love how Ross strikes the right balance of wholesome, inspirational, and entertaining.
9. Catan the Board Game
View on Amazon
Catan is a highly popular strategy. Fans of the game jokingly give warnings about its addictive properties.
It's the kind of fun gift a college guy, and his entire friend group will enjoy.
10. Food Socks
View on Amazon
The best funny gifts for guys in their 20s usually have a practical spin. College students can barely afford basic necessities, which is why socks are always appreciated.
These food socks go the extra mile–from pizza to fast food to sushi and coffee, you're sure to find the perfect pair for him!
11. Star Wars Clapper On/Off Light Switch
View on Amazon
I think everyone has wished for the ability to clap on and off the lights at some point. It's a fun novelty trick that's super useful at the same time.
Give him the gift that keeps on giving with an awesome, Star Wars clapper.
Choose from C-3PO, Darth Vader, and the ever popular, Grogu (or more commonly referred to as Baby Yoda) from The Mandalorian.
12. College Town Drinkware
From pint glasses to coffee mugs, insulated tumblers, flasks, cutting boards, and more–where it's drinks and food, there's sure to be fun!
Which is why drinkware with a map of his college town is a fool-proof gift! It's something unique that he's sure to use often, and when he does, he'll think of you.
13. Book of 52 Things to Do While You Poo
View on Amazon
I may not understand it, but I do know bathroom humor is a universal love for all guys. And maybe college guys most of all.
This book will give him something to look at other than his phone when he's in the john.
14. Men's Little Puzzle Thing
View on Amazon
Even guys who aren't avid puzzlers will be able to have fun with this one. Because due to its miniature size, these little guys can be finished in 20 minutes or less.
With this gift idea, there are over 20 different shapes to choose from–including pizza, ramen, disco ball, and more.
---
Conclusions on fun gifts for guys in their 20s
So that wraps up this list of fun gifts for male college students. I hope you found a gift that's perfect for your college guy!
Related:
---
Pin it for later 📌: