45 Best College Graduation Gifts for Him
College Life Made Easy is reader-supported. When you buy through links on our site, we may earn an affiliate commission. Learn more.
Graduation Ideas for Guys in the Class of 2022
Whether you're shopping for a son, nephew, brother, boyfriend, or friend:
Graduation gift shopping for a guy can be a real head scratcher.
But there's no need to fret. Because I rounded up a list of the best college graduation gifts for him.
No matter how big or small your budget is:
You're sure to find a gift that's perfect for the special graduating guy in your life. Here are 43 Pinterest worthy ideas that'll get the job done and then some.
Useful Guy Graduation Gift Ideas
Keepsake Graduation Gifts for Him
1. State License Plate Tray
Whether he went to school in his hometown or all the way on the other side of the country, he's sure to appreciate a little reminder of his journey thus far.
A license plate tray is not only a unique gift for a graduate, but also a useful one.
He can use it as a catch-all tray for his wallet and keys, a business card holder, or even a candy dish for his workplace desk. These license plates are made to order, so you can pick the state he'll love best!
2. College Town Drinkware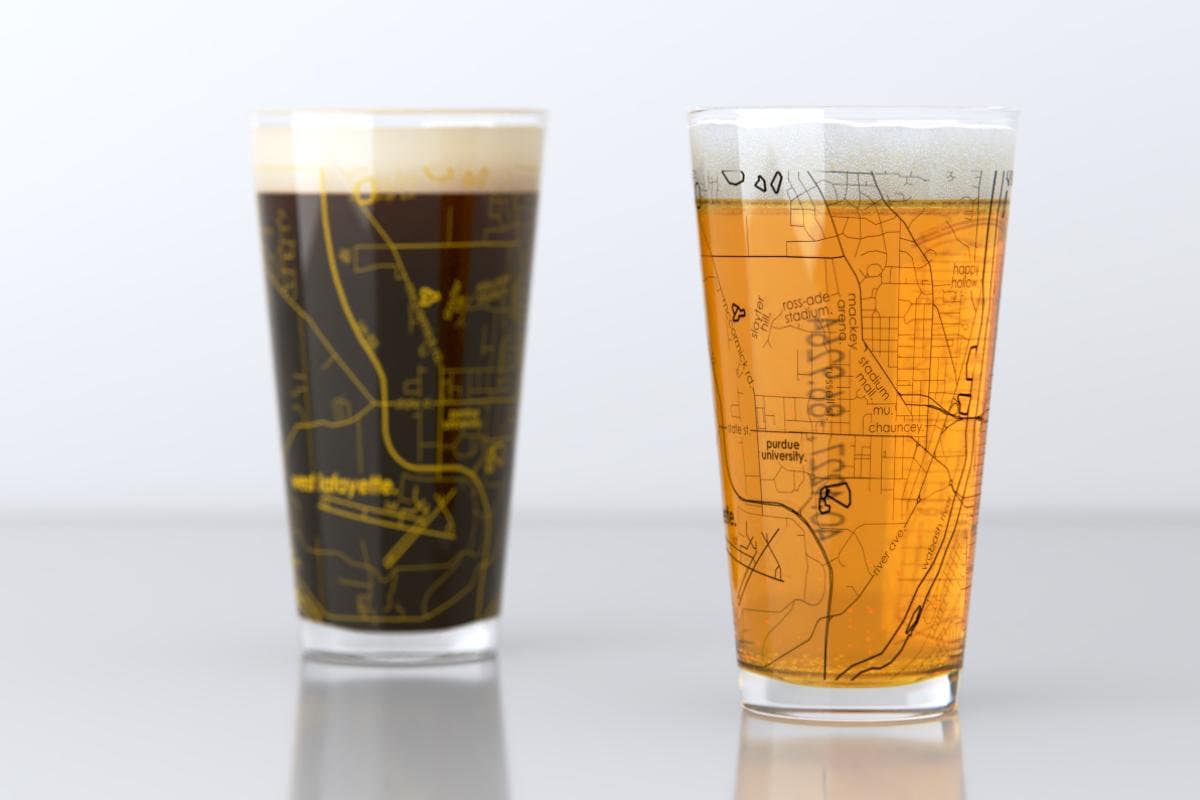 A pint or rocks glass with a map of his college town makes wonderful keepsake graduation gifts for him.
The constant reminder will keep memories fresh in his mind.
3. Personalized Campus Map
Kill two birds with one stone –
Give your grad a keepsake that also doubles as wall art. Because you know he doesn't have much in the way of home decor.
From the optional heart to the road color and graduation date, you can personalize everything about this framed college/university campus print!
4. Engraved Pocket Knife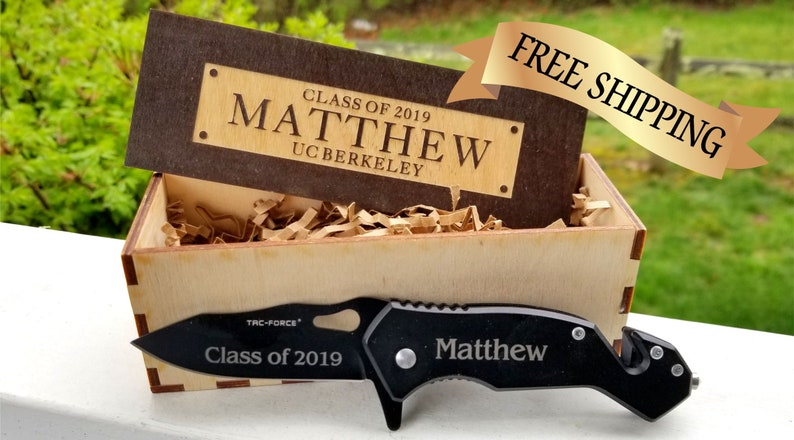 This engraved pocket knife is a top pick as a graduation gift for him.
Because a pocket knife is something that always comes in handy! The one pictured comes with a beautiful box which gives it an extra special touch.
It's a useful gift that will remind him of his college years.
5. Classy Custom Duffel Bag
A duffel bag has so many uses – traveling for work, weekend getaways, trips to the gym – it's something he'll use again and again.
This sophisticated duffel bag is a thoughtful keepsake gift that he'll enjoy for years to come.
College Graduation Gifts for Son
Here are some more ideas that'll help answer the question of what to give a guy on graduation day.
6. Amazon Echo or Dot
A great graduation gift for him (and you) is an Amazon Echo.
I got all my extended family and relatives their own Amazon Dots for Christmas last year. Now we send each other voice messages all the time because it allows us to call hands-free!
My parents and grandparents love them for this particular feature. And us younger kids love how easy it makes staying in contact.
Plus, these babies have tons of other features (like premium speaker sound and smart hub controls) that any guy would appreciate.
7. Custom Docking Station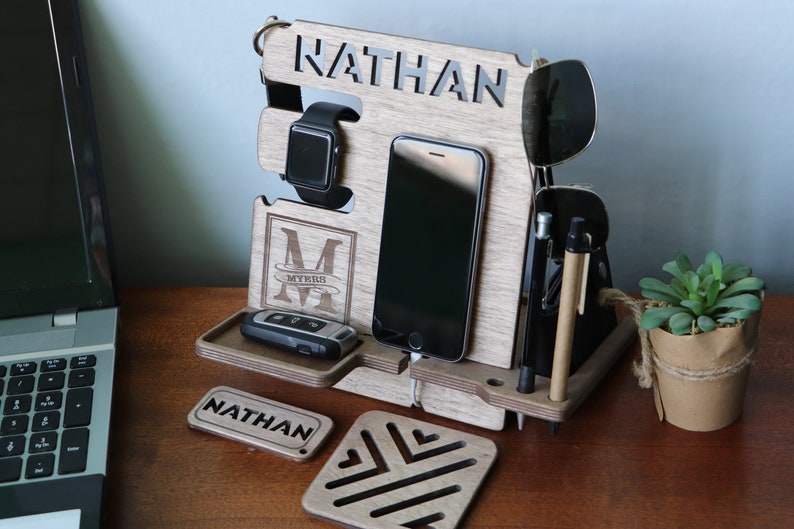 If you want to give a useful graduation gift, a docking station is the way to go.
It neatly holds a phone, keys, pens, a watch, and more. You can imagine how often he'll find it comes in pretty handy!
The wood and personalization makes it all the more unique.
8. KitchenAid Mixer
A KitchenAid mixer is more than just a mixer. With over 15 attachment options, it can be used for so many things.
Attachments include an ice cream maker, juicer, meat grinder, pasta roller, and vegetable spiralizer.
The gift of one will be a serious upgrade for any new grad's kitchen. The best part is that it will last him for LIFE.
9. A Good Book to Boost His Career
Now that he's secured his degree, the next step is landing a job and moving up the career ladder. Easier said than done. Especially when there isn't exactly a clear cut road map to follow.
That's where the book KNOCK comes in.
This book is the networking guide fresh graduates need. Utilizing a proven five-step approach, author Rebecca Otis Leder reveals practical tips anyone can implement to build meaningful connections and grow their career.
If you want to give the gift of priceless wisdom, look no further. KNOCK will give him building blocks to establish long-term success and inspire confidence in his own ability to navigate uncharted waters.
Being armed with the right knowledge makes all the difference when you're transitioning from academia to the working world!
10. YNAB Software

Learning how to be smart with your money early on is one of life's most valuable lessons.
After graduation is when it's time to start paying back loans and working off debt.
And:
Escaping the endless debt is one of the biggest problems fresh grads have to solve.
A useful college gift for your son is good financial advice. You Need a Budget's software can guide him every step of the way.
11. Classy Attire Gift Set
The time has come for your college kid to land a dream job in his chosen career field.
The only problem is…
He doesn't have many (if any) nice clothes to wear for interviews. He also likely doesn't have a lot of extra cash to furnish a new wardrobe.
A fantastic graduation gift from parents to sons is dressy attire. Such as this gift box with a nice selection of accessories.
12. A Luggage Set
How many college students do you know that have luggage, much less a complete set?
Not many (if any), I'm sure.
But:
Lots of college-age young adults do have aspirations to travel when things get back to normal. Which is why a nice luggage set is sure to delight.
13. A Box of Inspiration
Many young people highly value experiences over things.
A thoughtful graduation gift for your son is a box full of inspiration. Inside are 22 scrolls with motivational quotes.
Any time he needs a little encouragement, he can reach for the box and think of you.
14. A YETI Cooler
Is your son an outdoorsy kind of guy?
YETI coolers are sought after by hunters, campers, fishermen, and those who like to just get out of the city.
This type of gift is sure to get a WOW and a big hug.
15. An Instant Pot
What could be better than the gift of something that can make dinner at lightning speed?
When you have an Instant Pot, cooking is a lot less work. It takes hardly any cooking skills to operate it. That can encourage guys to spend more time eating in instead of eating out.
16. Tile Trackers
Shop Tile Trackers
Everyone has misplaced a wallet, phone, or keys at some point.
Which is why:
Tile Bluetooth trackers are a useful gift for a new grad. He can keep track of just about anything (like luggage, laptop, backpack, or even his car) with these versatile little devices.
17. Lego Graduate Minifigure
Was your son a Lego fan when he was younger?
If so:
This custom graduate minifigure (or this non-custom minifig) is a no-brainer guy graduation gift! It's so cute. You could even stick him on the grad party cake.
Graduation Gifts for Brother
Here are some cool grad gifts for your brother!
18. A BroBasket
As the name implies, BroBaskets are gift baskets made for men.
They tout themselves as The Best Gifts for Men. Period. Sharing a cold one with your brother is a timeless way to celebrate big life moments.
19. Rugged Headphone Support Stand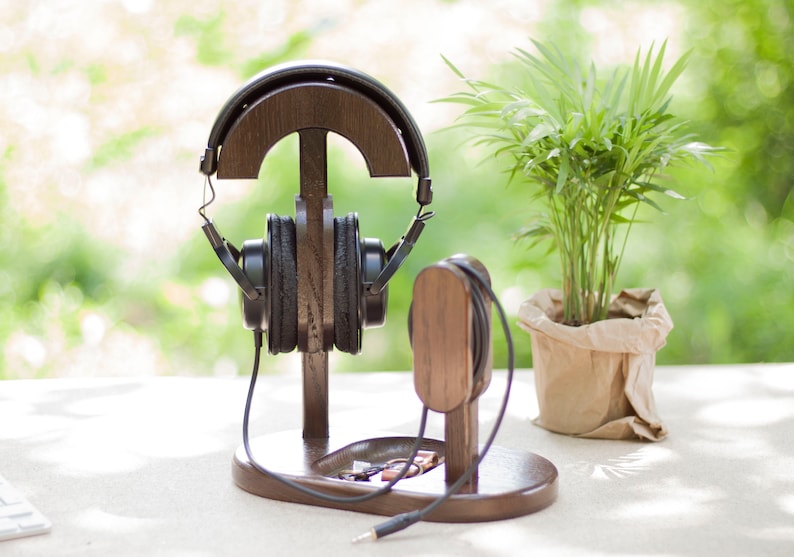 If your brother has an interest in PC gaming…
He could probably use a nice stand for his headphones. It's something he might not be able to buy for himself.
But you can be sure that it's a useful college graduation gift. It gets points for looking great while keeping cords organized.
20. A Supercar Experience
I'm pretty sure this idea would make you brother of the year.
What guy would turn down the chance to drive a supercar?
None that I know. You can book a Supercar experience where he can let loose around a race track, or you can use Turo to rent someone's personal car to drive wherever.
Either way:
It's a completely unique graduation gift.
21. Craft Beer Brewing Kit
If beer is a passion of his:
He'd probably enjoy learning how to brew a batch, too.
You could even use a Brewing Kit together for some extra, post-college quality time.
22. Mystery Gift Box
Does your brother like surprises? Is he the kind of person that's hard to shop for?
If so, this may be the grad gift for him!
This sibling mystery box has 7 gifts, one is meant to be opened each day. That equals a whole week of fun!
23. National Parks Scratch Off Poster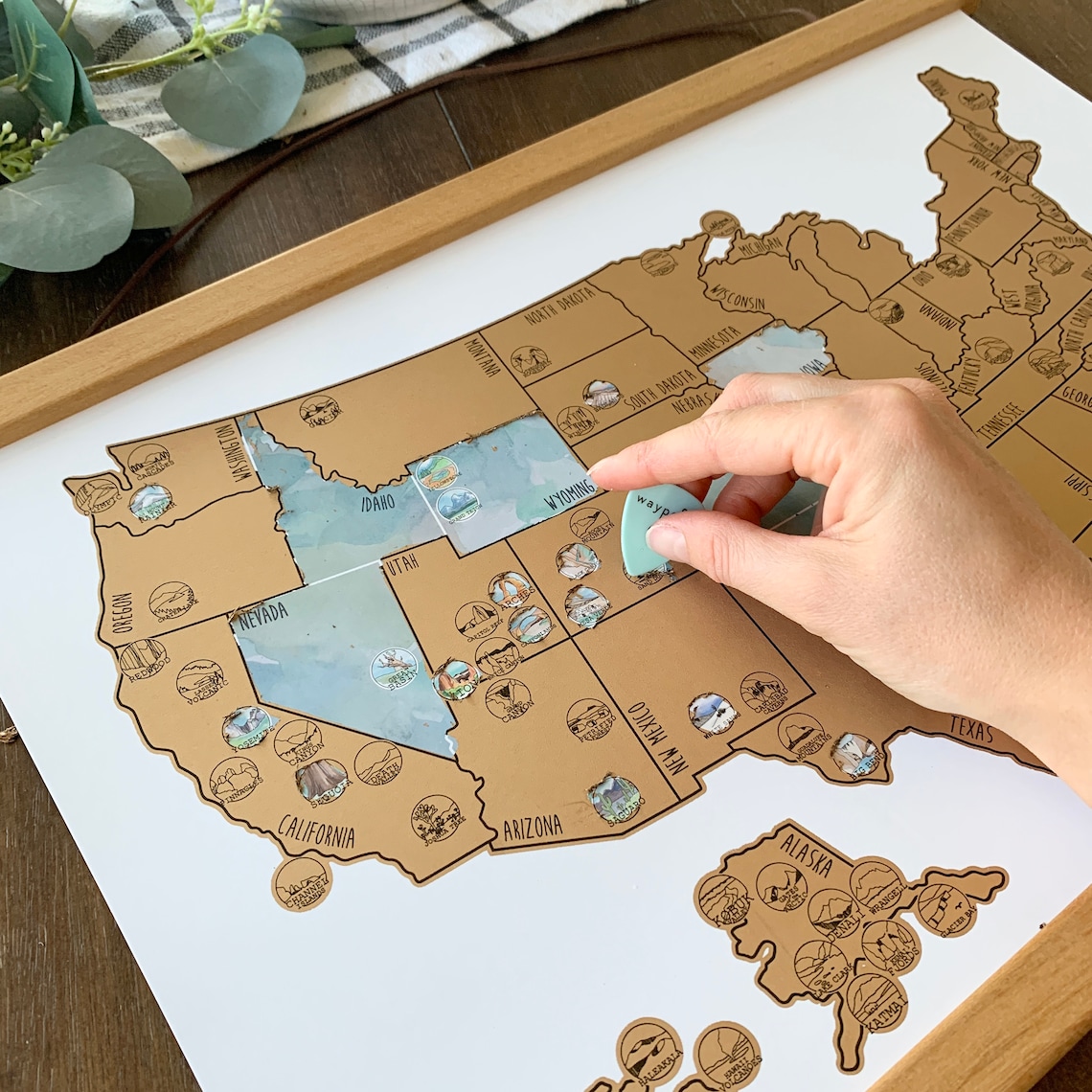 A poster with 63 US National Parks is a unique idea that keeps on giving. Because he can scratch off each park as he visits them and display his travels as cool wall art.
It's perfect for guys who love the great outdoors!
You can personalize it by writing memories and dates next to the parks you've already visited together.
College Graduation Gifts for Boyfriend
Here are some college graduation gifts for your boyfriend. These ideas will help express how proud you are of him!
After all:
Your significant other is special, and he deserves the recognition.
24. Engraved Flask
Show your man how proud you are of him by choosing a unique gift like a personalized engraved flask.
It's a great little mento for graduation day.
25. Stylish Accessories Gift Box
Outfit accessories are an idea for the fashion (or even not so) conscious guy in your life.
Plus: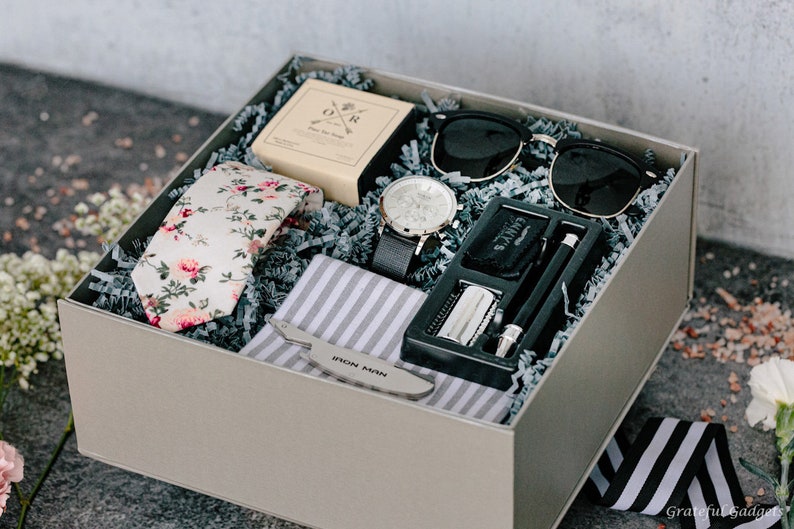 Stylish new pieces can do wonders for boosting self-confidence. Something which is much needed when starting his post-grad career.
This graduation gift set is a great way to treat your boyfriend on his big day.
26. Massage or Spa Day Certificate
After all that work:
Some pampering is in order! Now is the time to relax and take a load off off his shoulders.
A massage or a spa day is the perfect grad gift to help him unwind.
Tip: if you know he tends to prefer deep tissue massage over Swedish, book him one at a chiropractic office instead of a spa.
27. Kindle Paperwhite eReader
Kindles make accessing any book you've ever wanted to read easier than ever.
There's no need to lug around heavy books or have a bookshelf when you have one of these bad boys.
Boyfriends who are avid readers can delight in all the practicality one has to offer.
And if he already has one – a Kindle Unlimited Membership is an excellent choice.
28. Matching Keychain & Necklace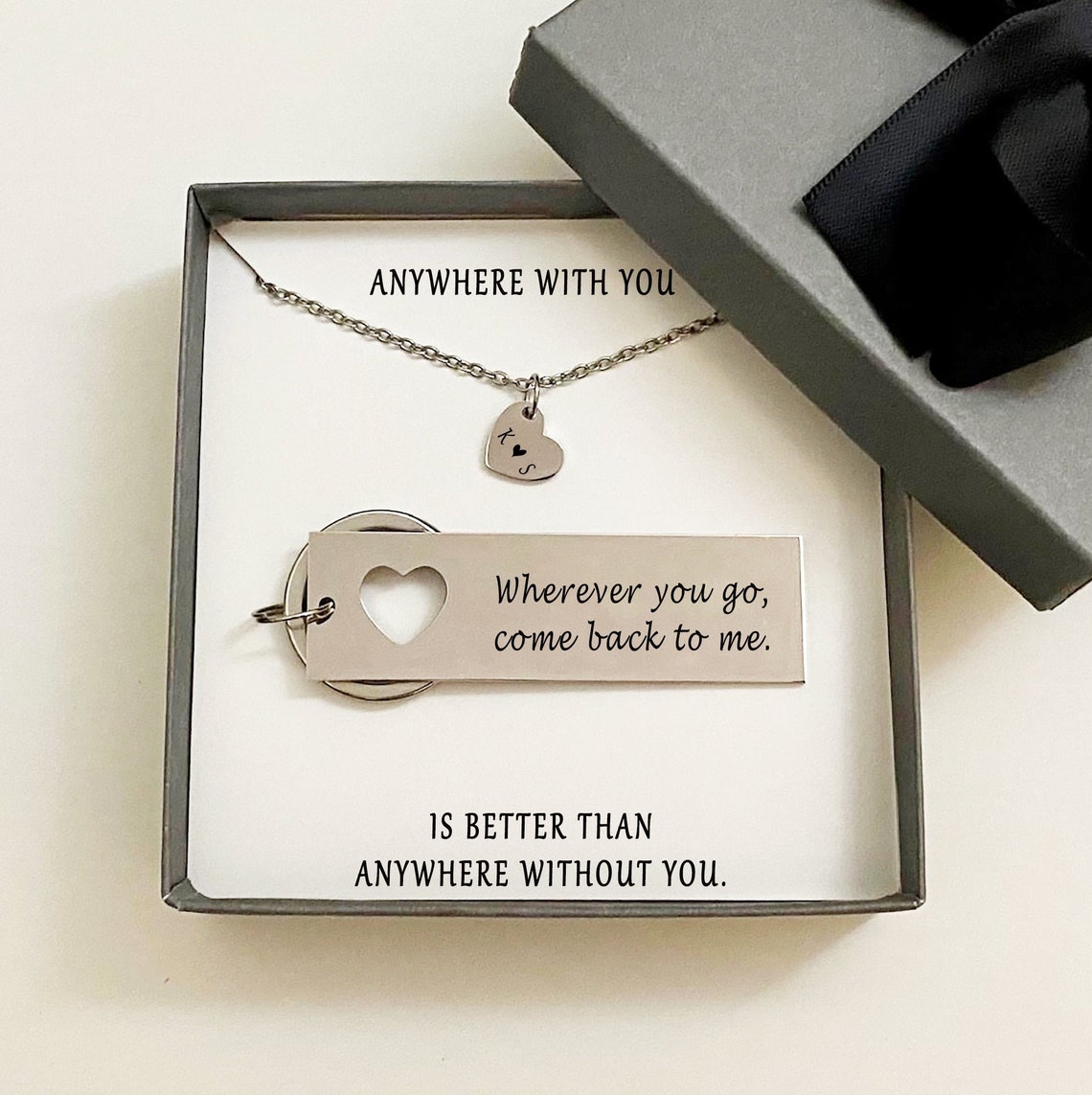 If you want to give a more sentimental gift:
You could go with a keychain and matching necklace. This cute saying will make him feel loved and special.
29. Hilariously Irreverent Mug Gift Box
You can't go wrong with coffee, a nice candle, and a funny mug.
This college graduation gift for him has a little bit of everything.
Masters Graduation Gifts for Him
Finishing grad school is a huge accomplishment. It's definitely a big deal!
Master's programs aren't only just difficult:
They also require many years of study, commitment, and dedication. Life moments like this don't come around often, which is why a different type of present can feel more appropriate.
So here are some master's graduation gift ideas for him.
It's all stuff that the grad himself can't quite afford to splurge on yet. But boy, would he love to have it!
30. Powerbeats Pro Wireless Earbuds
Obtaining his degree has been a long path, and I'm sure his current pair of earbuds have seen plenty of use.
You can't go wrong by gifting him with a new top-quality pair. And a pair that allows him to be free of the confines of wires would be even better.
Powerbeats Pro Wireless Earbuds are a top choice. They're compatible with iOs and Android.
31. Milestone Congratulatory Keychain
Finding the right words isn't always easy, but this perfectly crafted message can fill in when words fail you.
This Master's graduation keychain is certainly a heartfelt gift. He's sure to feel a sense of pride every time he sees this little memento of his achievement.
32. Philips Electric Razor
First, you finish graduate school. The next step is entering the workforce.
And with job hunting comes interviews.
He's going to want to look his best to land his dream job. So a nice electric razor is a logical gift choice. It'll really help him keep up with his personal grooming.
This Philips Norelco Shaver has great reviews.
33. Premium Shun Knife Set
There are some things you only need to purchase once in a lifetime if you choose the right brand.
A graduation gift for him that he'll never forget is a knife set of exceptional quality, like this Shun Classic Set. It'll deliver fond memories of completing his master's for years to come.
Chef or not, it'll get near daily use.
The difference between a premium knife and every other is so stark that once he has one, he'll never want to use anything else.
34. A Timeless Classic Citizen Watch
Nothing quite says timeless like a stylish men's watch.
A master's degree graduation certainly calls for something with an air of classiness. And a Citizen timepiece fits that bill.
Your grad is sure to be obsessed with it.  In fact, it'll most likely be glued to his wrist for quite some time!
35. Smells Like Success Gift Box
If the soon-to-be graduate you know has an irreverent sense of humor, lean into it!
This fun masters degree graduation gift box is sure to met with a big smile. Not to mention laughs!
Inexpensive Graduation Gift for Guy
Need some graduation gift ideas for friends and don't really want to go all out? Or maybe you're just not looking to spend a ton?
Save your budget and still impress with these cheap ideas that boys will like.
36. Graduation Year Penny Keychain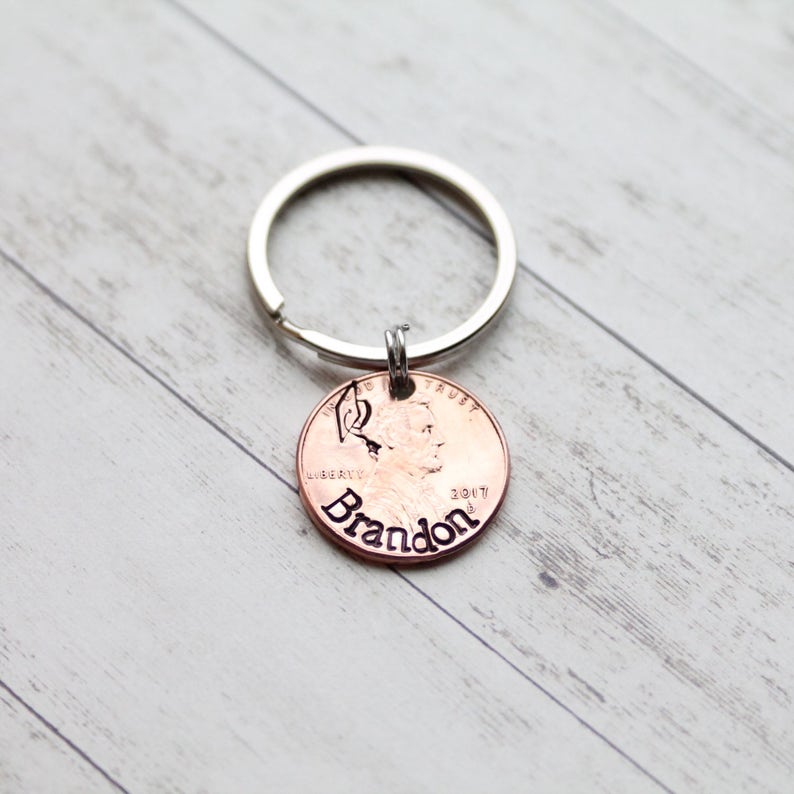 A personalized keychain with his graduation year is unique, and while it's inexpensive, it's also not chintzy.
This Graduation Year Penny isn't girly or over the top. I think the simplicity of it makes it more likely to actually be used by a guy – instead of collecting dust in a box.
This gift can serve as a nice little reminder of his college years every time he gets a glimpse of it hanging from his keys.
37. A Puntastic Shirt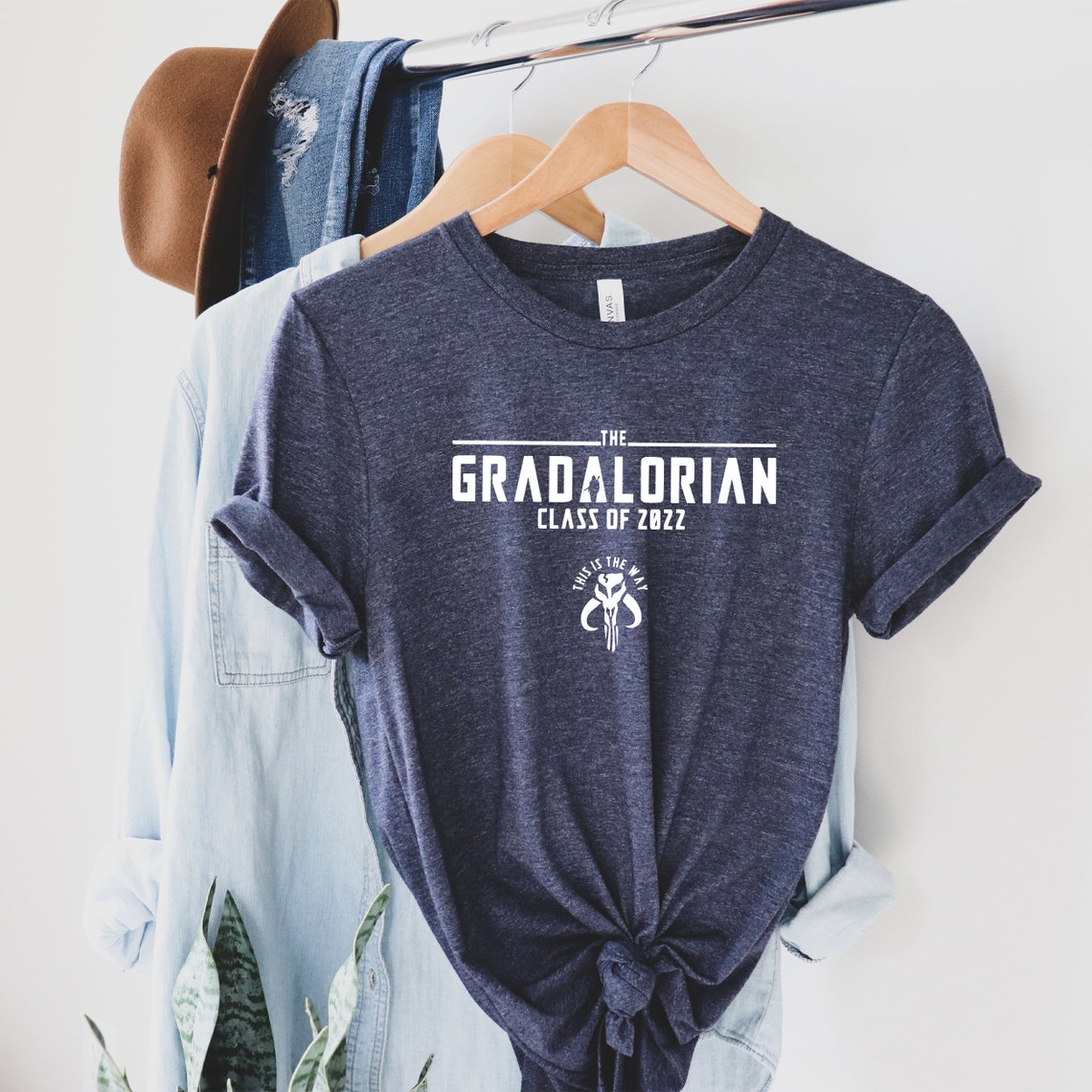 A cool t-shirt always hits the mark with grads. Because hey – free clothing!
This Gradalorian t-shirt is perfect for fans of the Mandalorian series and Star Wars.
38. Cast Iron Skillet
Chances are that the boy you're shopping for doesn't really have much in the way of cooking tools.
Instead of gifting a whole cookware set that's way over your budget:
You could choose one item that has a variety of uses. Such as a cast-iron skillet!
Cast iron skillets have a raving fan base. Which is due to their durability and the fact that one can easily last a lifetime of use.
39. Custom Socks With His Face
The general consensus is that the older you get, the happier you are with receiving socks as gifts.
Do one better:
And go with a pair of socks that are customized to have his face all over them.
40. Funny Mug
Know the guy you're shopping for has a good sense of humor?
Don't overthink the grad gift! A mug is always useful, he'll get a kick out of one like this.
41. Starter Tool Kit
View on Uncommon Goods
When you don't have a lot of money to spare:
Simple things like owning a tool kit go by the wayside. That's why a starter tool kit with all the basic essentials is a great graduation gift idea for him. Sooner or later he's bound to find a use for it!
42. Ultra Thin Portable Charger
Just because college is over doesn't mean the grad won't still have plenty of running around to do.
A portable power bank can keep his phone charged all day without the need to make any pit stops.
Last Minute Graduation Gifts for Him
Sometimes you just need to get a present quickly.
We've all been guilty of waiting until the last second to shop at one point in our lives.
Down below, you'll find some suggestions for last-minute graduation gifts that aren't just cash or gift cards.
43. Amazon Prime Membership
eGifts make great last minute graduation gift ideas. Because you don't have to wait for anything to be delivered.
And:
I don't know anyone who would be disappointed with receiving a year's membership to Amazon Prime.
44. Pizza Money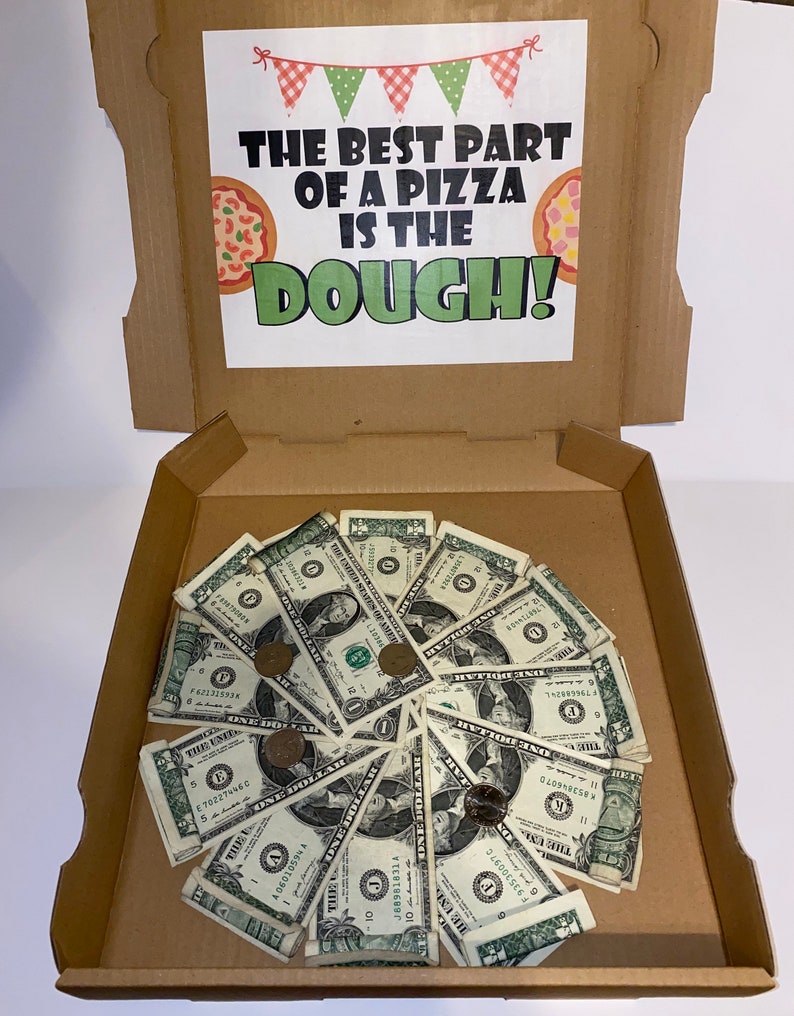 Now that college is over, it's time to start "adulting." And that includes living on your own and paying bills.
No graduating college guy is going to complain about the gift of money!
Make it a little more interesting by creating a pizza out of real spendable cash. Here are instructions on how to DIY this idea yourself.
45. Stylish Leather Laptop Bag
A laptop bag combo will help him transition into the professional workforce as a new graduate.
It's great for both work and travel!
You can find one like this at a local department store if you're super short on time.
---
FAQ
What is the Best Gift for Graduation?

Unfortunately:

There is not a universal, catch-all "best" graduation gift for everyone.

What might WOW one guy can be kind of underwhelming for another. It really depends on the giftee!

Considering the recipient's interests, hobbies, career field, and lifestyle is a good place to start your brainstorming process.

But with grad gifts, ideally…

The present would be a combination of two things:

1 – It's something that celebrates his hard work.
2 – It's something that also brings more joy into his life.

A gift for graduation can be a little luxury for his transition into the "real world". He'll be leaving behind his broke college student days to go out into the world as a young, educated professional.

Putting yourself in his shoes and thinking about what you needed or wanted when you were the same age can help you with your decision.

Now, of course, simply asking him what he wants can take the mystery out of the whole gift-giving process.

But many times the answer is, "I don't know."

Which is less than helpful…

So, if you aren't super close with the soon to be college graduate:

You can always ask someone who knows him really well for ideas. You could even take a look at his social media accounts to get a better idea of his current interests.

The New York Times has some more advice when it comes to selecting a great gift.
How much is an appropriate college graduation gift?

Is there an amount that's typical of graduation gifts from parents, relatives, or friends?

The short answer is – no. There's actually no certain amount that you are expected to, or need, to spend.

However, if you want a ballpark for a general range:

$119 was the average amount spent in 2021, according to NRF's annual survey.

This article gives a wider range for the common gift-giving value, putting it somewhere between $20 – $500.

What it boils down to is how strong your relationship is with the graduate and how much you can afford to give.

In the end:

When you're trying to pinpoint the best graduation gift for a boy, simply being thoughtful when making your selection is the most important aspect.

Adding a personal touch, such as a handwritten note instead of a generic card, can make a world of difference.

Now you might have another question about what's expected or not expected at college graduation, particularly –
Do you give boys flowers at graduation?

Quick answer – no. Or at least, it's not traditional to so.

Not to say that you can't. In fact, if you know for certain that he loves flowers – I say go for it.

But, for the majority…

Even though giving flowers to girls at commencements is customary, giving flowers to men is not. It may even cause some confusion.

It's not that all guys hate receiving bouquets, but usually, they just don't know what to do with them.

However:

An appropriate alternative would be a Graduation Lei. They are popular with both college boys and girls.

They are a festive decoration to add over graduation robes before or after the ceremony.
---
Final thoughts on graduation college gifts for him…
Whatever you end up choosing to give a boy on graduation day:
Just remember that expressing how proud you are of him is the most important part.
He may not remember what the college graduation gifts for him were in 20 years time, but he will remember how he felt.
So:
Just make him feel loved, and you'll ultimately get it right.
Related articles:
---
Pin it for later 📌:
---
Useful College Graduation Gifts for Him