53 Fantastic Box of Sunshine Ideas for Spreading Happiness
College Life Made Easy is reader-supported. When you buy through links on our site, we may earn an affiliate commission. Learn more.
40) Hello From The Other Side
When you're trapped at home and have all the time in the world on your hands, channel your energy into spreading cheer!
41) Emoji Theme
Lean into the emoji trend, it won't steer you wrong.
42) Happy Mail During Recovery
Being cooped up in the house while recovering from surgery can get boring. A thoughtful gift is a welcome sight and they'll adore you for it.
43) Circle of Happiness
Building a box full of sunshine is a great excuse to upcycle an old hat box you have laying around.
44) Ultimate Yellow Care Package
I'm the type of person who loves giving gifts. So if you have the time and the means, I think that going ALL OUT would be pretty fun.
45) Birthday Favorites for Mom
Take note – sending a gift like this to your mom for her birthday is how you become the favorite child.
46) Midday Pick Me Up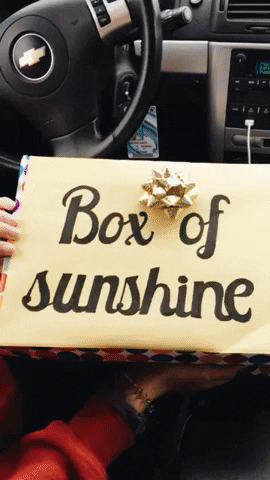 Via @mollywillz on VSCO
Imagine you're having a less than stellar day at work…
Then a friend brings you this on your lunch break!
47) Supporting Self Care
Nothing's better than a little out of the blue pampering via mail.
48) DIY Christmas Gift
Imagining unwrapping a sunshine box on Christmas morning!
49) You Are Amazing
Affirmation is my life blood. If you appreciate someone, tell them!
50) Delightful Care Package
Part of the fun is suddenly noticing all the yellow things you encounter in everyday life.
51) Holler & Glow
*Most* of the time everything in a box of sunshine is yellow. It certainly doesn't need to be, though!
52) Making Lemonade Out Of Lemons
You can go wrong with throwing in anything lemon or sunshine themed.
53) Thinking of You
Lastly, don't forget to personalize your care package in some way! Little notes will really make it all the more special.
---
Final Thoughts on a Box of Sunshine Gift
Wow – there were so many inspiring sunshine box ideas! And I'm sure there are many more out there, as well.
Which ones did you like best? Have you put together a yellow themed care package like this before?
Related Posts:
---
Pin it for later 📌:
---
Box of Sunshine Ideas Guaranteed to Spread Happiness